You are here
Grassroots Economics
(formerly known as Koru-Kenya)

Grassroots Economics is a non-profit foundation that seeks to empower marginalized communities to take charge of their own livelihoods and economic future. We focus on community development through economic empowerment and community currency programs. Beneficiaries of our programs include small businesses and people living in informal settlements as well as rural areas. GE is proud to have a rich history in community development programs thanks to it's many partners.
Our goal is to improve the lives of those who are most vulnerable. We use approaches such as participatory education and in-depth research and community profiling to understand needs and design programs with meaningful impacts.
Grassroots Economics history
While still in it initial stages, our work builds on a rich history of community programs in Africa. We have implemented community currency programs in 6 locations across Kenya and assisted with 2 in South Africa and helped more than 700 small businesses and 20 schools take an active role in their own economy and development. For current events visit our blog.
2015
This year we've reached 5 Community Currencies active in Kenya. The community groups are active in CC market days, networking events, community service work and savings and loan programs. We're really looking forward to these networks continuing to expand their potential in 2016.
2014
GE was invited us to meet with and eventually implement a Community Currency program with schools in Nairobi slums. The Gatina-Pesa in Kawangware Nairobi, was the first to launch and first to replicate the Bangla-Pesa model with SMEs and three schools. GE also began assisting the in the training and implementation of two currencies in South Africa.
2013
After the launch of Bangla-Pesa and subsequent success of helping improve local markets the program brought on the attention from Kenyan authorities who initially claimed the program was illegal. After a long court battle the program was deemed legal and with the cooperation of local Ministers of Parliament as well as police we were assisted to reopen the Bangla-Pesa program.
2012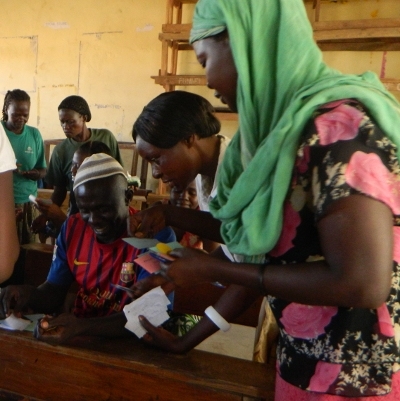 In order to increase the longevity of community currency programs we moved to a Mutual-Credit backing and developed the Bangla-Pesa model together with community members, in which SMEs are able to issue and back their own currency using their own goods and services - removing the need for donor backing. The Bangla-Pesa program was initiated in November 2012.
2010
The Eco-Pesa pilot program launched as a backed currency model with 75 Businesses taking part in three informal settlements near Kawangware, Mombasa. The currency was backed by donor funds and accomplished some amazing community service and environmental goals while increasing local trade for a year period.