You are here
Over 20 people trained in Bruxelles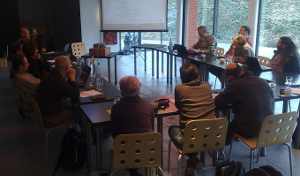 Very valuable training seminar at the Community Forge workshop in Brussels last weekend—an extended one at that, since it began on Friday with the level 1 training course, a short pause on Saturday to allow those who wanted to visit the Drupal Developers Days beheld in the Université libre de Bruxelles, and continuation on Sunday and Monday with courses of the 2nd and 3rd levels respectively.
The Walloons LETS (SEL in French) present were: BruSel, Macasel, Sel Esneux, Selcoupdepouce, Sel Waterloo, Selebi, Selavie and Unis-Vers-Sel. We also had the chance of a preview of Community Forge developments for the Routes des Sel. This was the occasion not only to train with the facility of having Matt, Tim and Josh on hand to answer all questions, but also to have a discussion of inter-LETS relations, of our relations with Community Forge and of the way in which we could work together in the development of common tools.
Not to mention all those things that make life so pleasant, the reception in a magnificent place, one of those typical 1930 houses as shown by the engraving on the door at the entrance "J. Paternot architecte, Jette 1930" . A faultless organisation carried out by an exceptionally amiable and efficient team, and if I was a bit disappointed in the Drupal Developers Days by an appalling under-representation of women there, Matt's comment was enough to console me: he had never once seen in one place so many competent women with programming skils as with this training with Community Forge. Long live the LETs and good continuation to our Belgian friends.
Marielle for the Sel du Pays de Gex (translated by Nicolas Smith of the SEL du Pays de Gex)